Labor of Love: Virtual 5k Race/1 Mile Run-Walk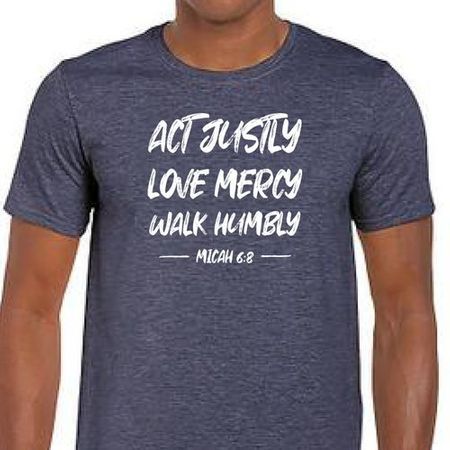 this year's t-shirt
space
The main event is in St. Louis, Mo. at Tower Grove Park on Labor Day at 8 a.m. It will include an all-you-can-eat pancake breakfast from a local food truck! The race kicks off at 8:30 a.m.
But anyone, anywhere can sign up and participate from home! We'd love to see friends participating across the US and Honduras! If you join us from afar, share a photo on social media with #MicahLaborOfLove. 
Follow this link to sign up for the event in STL or purchase a t-shirt for your own "satellite run" from wherever you may be. 
space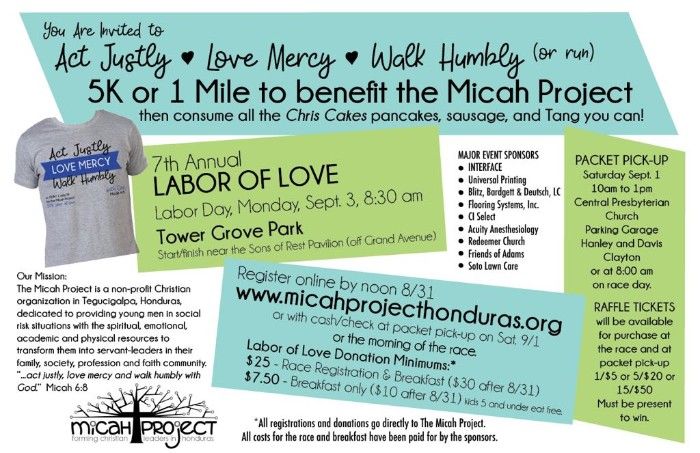 Please register via the link above by noon on Aug. 31 or with cash/check at the race packet pick-up. You may pick up your Labor of Love packets on Sept. 1 from 10 a.m. - 1 p.m. at Central Presbyterian Church in the parking garage at Hanley and Davis, or at 8 a.m. the morning of the race.
Donation/registration minimums:
5k race at Tower Grove Park with breakfast: $25

1 mile race at Tower Grove Park with breakfast: $25

Breakfast only at Tower Grove Park: $7.50 ($10 if you pay on location)

Satellite runs (you'll receive a t-shirt) anywhere: $25
All money earned from registrations and donations go directly to the Micah Project thanks to our generous sponsors!
Our major sponsors include:
INTERFACE

Blitz Bardgett & Deutsch, LC

Flooring Systems, Inc.

CI Select

Acuity Anesthesiology

Redeemer Church

The Apollos Foundation