Join us on Thursday, March 17 at 11:00 am Honduras time for the inauguration of our Cocina Julio Cesar Ortiz. Since December we have completely remodeled the areas in the front of the Micah House to build a new kitchen for our Micah Cooks Culinary School. We will inaugurate the new kitchen in loving memory of our precious Julio, a Micah grad and a founder of the culinary program who died in a traffic accident on January 22.
We will have a short program at 11:00 followed by a formal lunch prepared and served by our Micah Cooks team (which if you are watching on Facebook Live you will only get to observe from afar...). We will have a display of Julio's paintings at the event as well.
The Micah Cooks program is blessing so many lives and we are thrilled with this new space so that we can train future professional chefs! We hope you can join us next Thursday!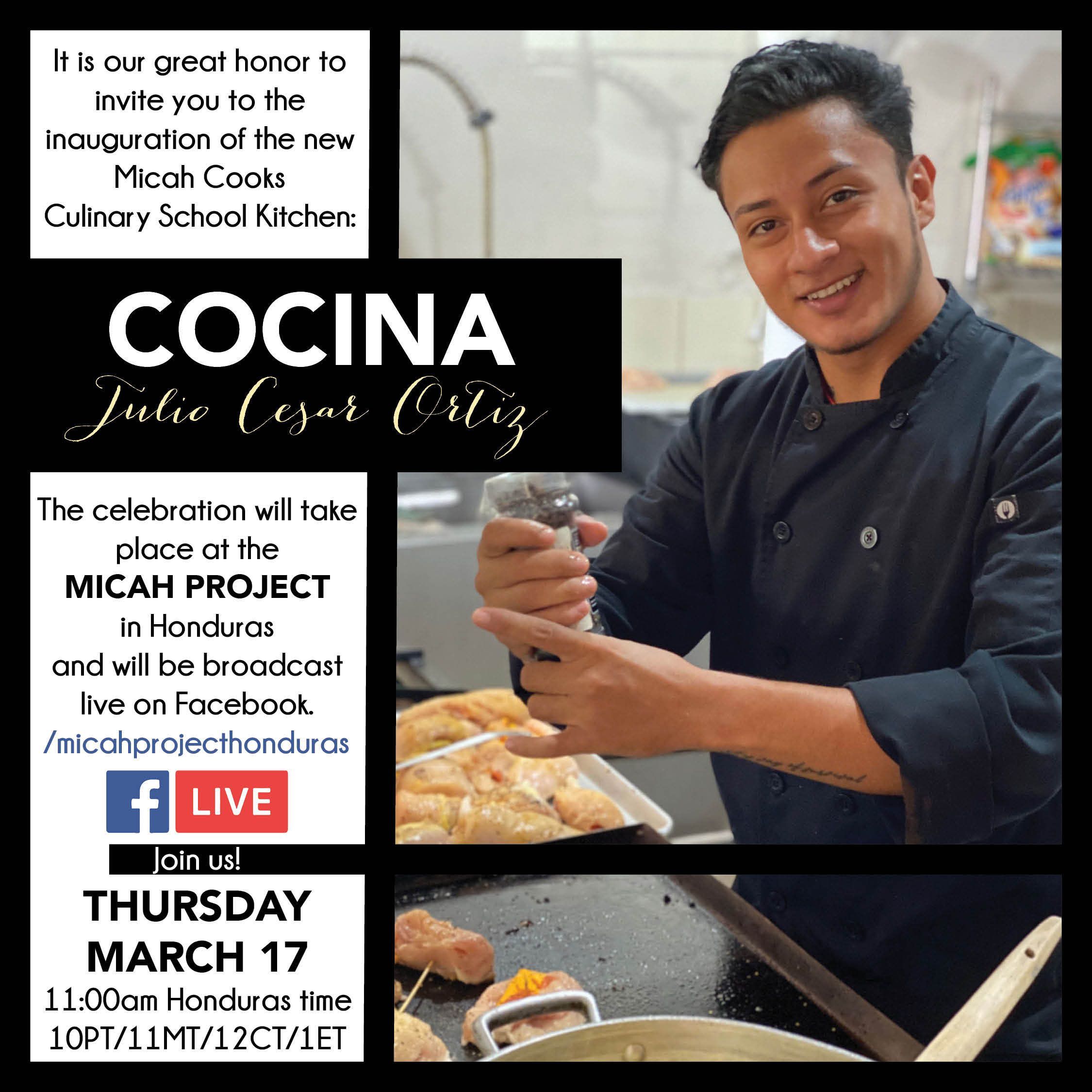 Micah Cooks Culinary School
Micah Cooks is one of several programs we are implementing under the larger umbrella of Micah Works. The focus of Micah Cooks is to train and equip street-connected youth with the tools they need to be successful in the culinary arts and other similar areas.
Video update on Micah Cooks:
vision
Micah Cooks seeks the theoretical-practical implementation of knowledge, talent development and skills discovery for street-connected youth who may not otherwise recognize what they have to offer when seeking a job. These young people will acquire new knowledge about the culinary arts at basic, intermediate and advanced levels according to the individual growth of each young person.
Mission
We aim to be the first Culinary Training School in Tegucigalpa, Honduras that will offer service to street-connected youth for free. Micah Cooks' mission is, in a period of two years, to create chefs, waiters and trained staff for events and food processing.
Who will participate?
Micah Cooks will offer educational training in the culinary arts to a variety of groups:
Micah House Residents: We hope to teach these young men that the culinary arts can be a useful tool to earn a living.
Micah Graduates: Due to issues associated with lack of employment, many Micah grads have not been able to find a formal job in the labor market. Micah Cooks will prepare them in the kitchen and other related areas to optimize their chances of success.
Open to the Public: Once the program is established and the fruits are seen, Micah Cooks has a dream of opening its doors to the general public, especially those who wish to become professional chefs and want to make cooking an art in their personal lives.
Cocina Julio Cesar Ortiz (The Julio Cesar Ortiz Kitchen)
As Michael mentioned in the video above, we are revamping our kitchen to get it ready for the official inauguration of this Culinary School, and we are also renaming it "Cocina Julio Cesar Ortiz" after the school's first student, our beloved Julio, who tragically passed away in a traffic accident in January 2022. We hope to honor Julio's life and we pray that this kitchen will be a place where many more youth like him find hope and a future in Christ.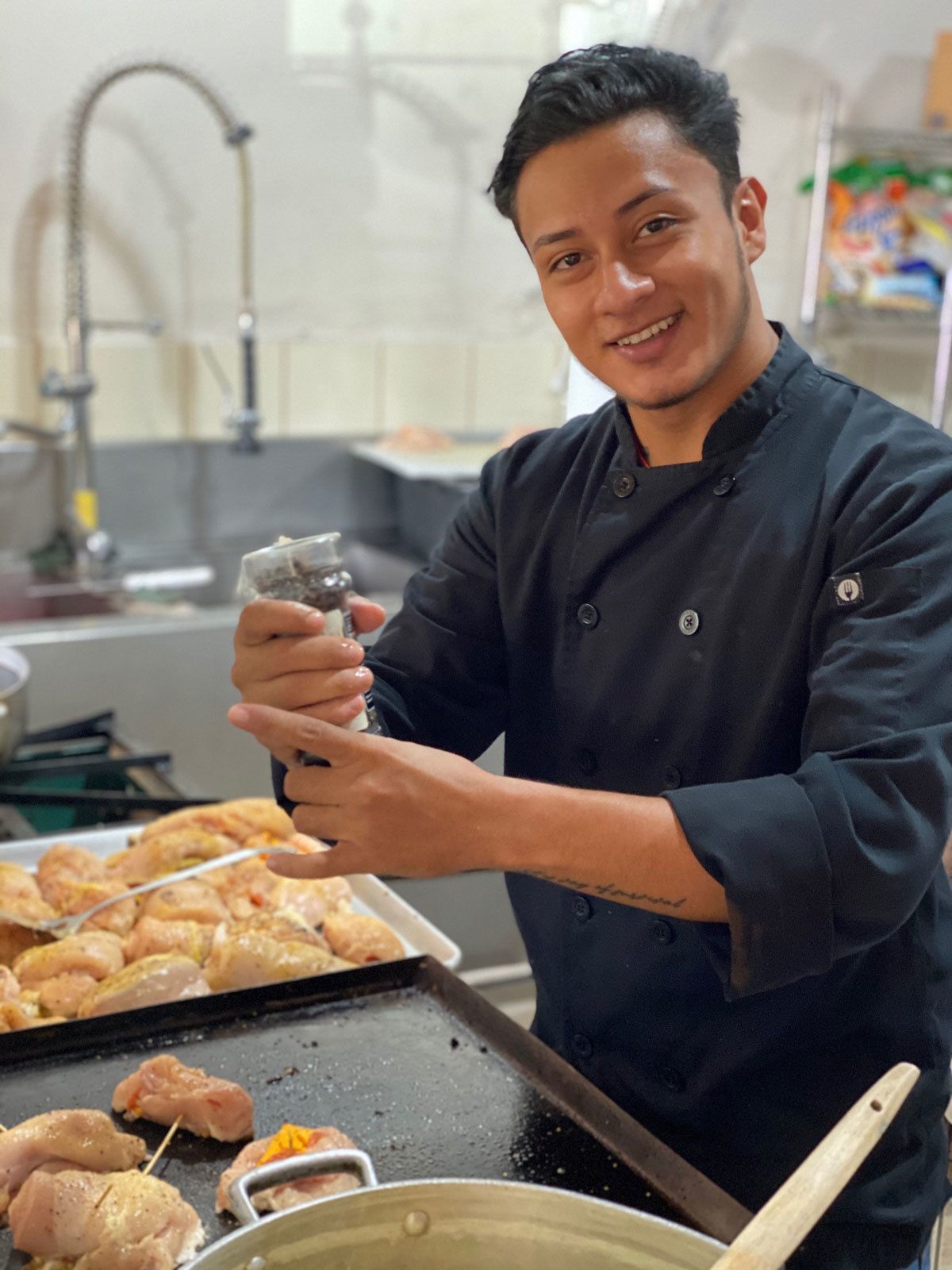 Support Micah Cooks Culinary School
Very soon, we will be getting prints made of several of Julio's beautiful works of art. The boys had a great idea of selling Julio's artwork as a way to raise money for the culinary school that Julio loved so much. If you are interested in purchasing a print or postcards with Julio's art, please email Becca at micahprojectbells@gmail.com and she will let you know once we have them available.