What is the Timothy House?
One of the most exciting successes at the Micah Project is that our young men have learned to set life goals and strive to achieve them. They are beginning to dream about future studies, careers and ministries. Yet since the Micah boys missed several years of school while living on the streets, they still have a long journey ahead of them until they can reach their new-found goals!
While many orphanages end their services at this age, we believe that we must continue to support our young men as they follow their dreams in the next several years of their lives. The Timothy House is the next step in that process. It is a place where our older participants can learn adult responsibility, while still having a support network as they finish high school and begin their higher education.
Timothy House Purpose: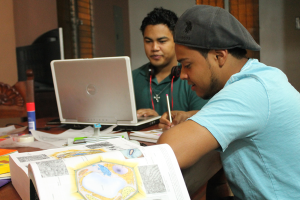 The Timothy house is a place for young men who are exiting orphanages and homes like the Micah Project to live the first couple of years of their adult life in order to continue their studies and/or make a successful transition into independent adulthood.
The need for such a program is great. Tegucigalpa, which had a population of 600,000 in 1993, now has a population of close to 1.3 million. The housing shortage is so severe that many people must live in shacks on hillsides that lack basic services and are unsuitable for human habitation. A large majority of the Micah boys fled just such violent and poverty stricken hovels to find solace on the streets.
Apartments are almost unheard of in this city and are very difficult to find. Thus, a young person often finds himself in sub-standard living conditions—conditions that can be almost impossible for a serious student. To make matters more complicated, local universities do not offer student housing.
This concern is shared by many residential programs working with poor children. Many boys and girls leave orphanages in their teen years only to drift back into the misery that they fled from in the first place, lacking a support network to help them make a healthy adjustment into adult life.
The Timothy House provides an answer to this question for teens who so desperately need support as they make the final leap into adulthood.